Welcome to Stubbs Dolls House Miniatures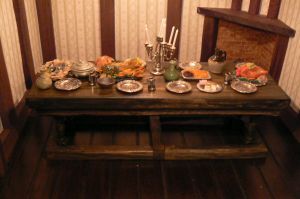 All our handmade bespoke 12th scale dolls house miniatures are made by us, using good quality wood. Selected dolls house miniature beds and chests are embossed giving the appearance of carving. Our handmade dolls house miniature furniture, bedding, drapes and clothing are all one of a kind.
Commissions undertaken for our handmade dolls house miniatures for furniture and clothes. If you want specific sizes, materials or colours, or if you have your furniture already and would like it dressed, please email or phone us on 07757199689.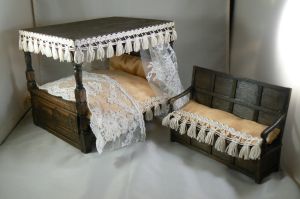 We also have a collection of good quality dressed dolls house miniatures for sale.
We exhibit our dolls house miniatures at several fairs throughout the year, please see the events page.
NEW CATERGORY; COMMISSIONS- Please see our commissioned items that we have been asked to make, if you have specific sizes that you require for your Tudor Furniture please contact us.
ABOUT US PAGE
I have put photographs of my Robert Stubbs Dolls Houses and will be putting the Victorian Houses on soon
Regarding the Sale of our Dolls House Miniatures
Please note that all our miniature dolls house items are one of a kind. We will endeavour to update the website daily. If for this reason we have sold the item you require, we will be able to make you a similar item as soon as possible, usually within a week.
Our web site accepts payments via Pay Pal, or you can pay by cheque or postal orders.
Postage and packing in the UK is between £3 and £7 pounds per item depending of size of package.
International customers: please email us at stubbsminiatures@yahoo.co.uk with your order and we will be in touch to discuss shipping costs.
Please see our terms for full details.